After leaving the warm 38 degree, end of summer weather in New York City, we were greeted with a much cooler 10 degrees when we arrived at Keflavik airport in Iceland late at night. We disembarked and grabbed our belongings before jumping on a bus to make the 30 min journey to Reykjavik. Once we arrived arrived, we made our way to Kex hostel and then went straight to bed ready to take on the next day.

We woke the next morning to a beautiful day in Reykjavik, brimming with excitement and the realisation I was finally in Iceland and ready to explore. Firstly I was in admiration of the hostel we were in. A beautiful old building which looked like it had previously been a butchery or something. They certainly know how to decorate in Iceland with all the great little touches that made staying here a real treat. Beautiful furniture, lightings, tiles, books and large rooms. Definitely the nicest hostel I've ever stayed in during my travels all over the world.

We decided on our first day to spend time walking around Reykjavik and checking the sites. We visited Lake Tjörnin, Hallgrímskirkja and a quaint camera/photography gallery all within a short distance of our accommodation. The second night in Iceland was another quiet affair as we waited for our cousin to arrive the following day from Copenhagen.

Our second full day was spent much the same as the first. I did a small hike up to a lookout in the middle of town but apart from that we just relaxed at the hostel. Our cousin Andrew finally arrived in the afternoon and we caught up over a few cold beers with a long overdue catch up and talks of what to do while in Iceland. We decided as the fireball started to flow (cinnamon whiskey) that we would hire a car and drive around the south western part of the island.

With an early start the next morning, we picked up the car and hit the road. We decided to do one of the most popular tourist routes, The Golden Circle. It's a fairly straight forward touring route within a couple hours of Reykjavik which takes in a lot of various sights. This included Þingvellir National Park, The Erupting Great Geysir and Little Geysir, Gullfoss waterfall plus a quick trip along the Kjölur Route. Some absolutely amazing locations which makes you grateful to be in country with so much beauty. After a full day of exploring, we drove back to Reykjavik. We then decided to go out for some food and drinks. With another possible quiet night on the cards, we sat around at the hostel before meeting some people who were going on a tour out of Reykjavik to see the Northern Lights.

After speaking with them and not having to drop the car back off until the next morning, we decided to make the journey in attempt to witness it. We ended up driving back out to Þingvellir National Park with another French Canadian guy in tow to see it. After standing around in -1 temps with very little activity in the sky for an hour, we were almost about to leave when one of the group spotted movement in the sky. We grabbed our cameras and took some shots as we saw it the sky above us. Satisfied with what we had seen and some good photos, we drove the hour back to Reykjavik.

For our final day, Andrew and I decided to check out the most famous tourist spot in Iceland, the Blue Lagoon. Bryce had seen it on a previous trip so stayed behind at the hostel. We hoped on a bus and journeyed over to the lagoon. The Blue Lagoon is a natural hot spring located in the Grindavik Lava Fields not too far from the airport. It's become such big popular sport that people who are on quick stop overs between North America and Europe will come out to swim in its warm waters before going back to the airport to their next destination. It's a fantastic spot with the surrounding lava fields making you feel like you are on the moon. After a few hours enjoying the water, we headed back to Reykjavik.

On our last night we had a big one. We firstly went a tapas restaurant and ate minke whale and puffin for the first time. The puffin ended up being quite salty and gross but the whale was delicious. We then headed to a bar and drank into the night, ignoring the fact we had a early morning flight the next day. About 1am I decided to head back to the hostel for some shut-eye while my brother and cousin continued into the early morning. Finally about 4am he came into to collect his belongings as I was waking up. We jumped on the bus for one more time and headed to the airport before catching a flight onto more adventures in Europe.

Lake Tjörnin (Reykjavik)
Bike rack and dog (Reykjavik)
Hallgrímskirkja (Reykjavik)
Esja - Faxaflói Bay (South West Iceland)
Þingvellir National Park (South West Iceland)
Little Geysir (South West Iceland)
The Erupting Great Geysir (South West Iceland)
Gullfoss (South West Iceland)
Kjölur Route - Kjalvegur (South West Iceland)
Blue Lagoon, Reykjanes Peninsula (South West Iceland)
Grindavík Lava Fields - Reykjanes Peninsula (South West Iceland)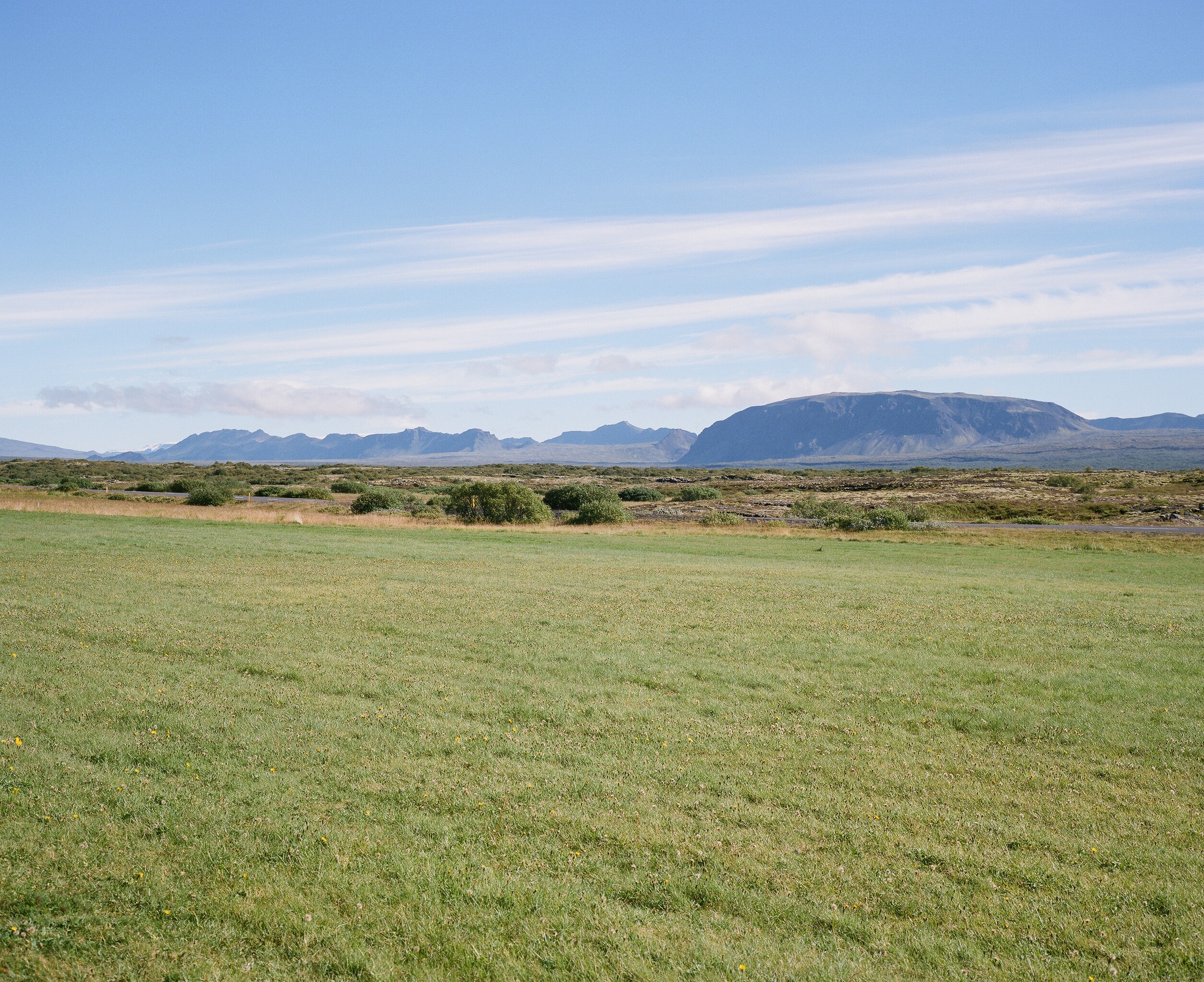 Shot on a Mamiya 7, 80mm f4.0 lens and Fuji Pro400H film. Developed and scanned by Richard Photo Lab in California.